Chiropractic Care During Pregnancy
During pregnancy, the shifting of weight bearing structures accompanied by connective tissues, such as tendons and ligaments, becoming loose can lead to lower back pain. Lakewood Ranch Advanced Chiropractic and Physiotherapy can treat this pain safely through chiropractic adjustments. He has a table which can modified to accommodate the changes in your body and he will modify the adjusting techniques as necessary during the course of your pregnancy.
Chiropractic care can help provide freedom from nerve irritation which could be vitally important in insuring your child's healthy, normal development. Adjustments also help to insure your pelvic bones are in proper alignment, which may result in an easier delivery with less chance of injury to you or your child.
While it is fairly common, back pain during pregnancy should definitely not be accepted as just part of the process. To help make your pregnancy as pleasant as possible and facilitate an easier delivery, back pain should be always be addressed as quickly as possible and managed throughout your pregnancy.
Lower back pain in pregnancy that lasts a long time (several weeks or months) is a predictor for postpartum back pain (pain after birth). For this reason, pregnant women are encouraged to seek appropriate back pain treatment during pregnancy.
Likewise, any postpartum pain that lasts longer than six to eight weeks should be treated in order to avoid chronic back pain or recurring back problems following pregnancy.
Chiropractic Care and Kids
How Does Lakewood Ranch Advanced Chiropractic and Physiotherapy Treat Children?

Lakewood Ranch Advanced Chiropractic and Physiotherapy modifies chiropractic treatment techniques to be appropriate for your child's size and needs. He uses very gentle pressure to correct spinal position and help ensure proper spinal development. Treatment may also include exercises and nutritional counseling.
Chiropractic treatment for children
At birth, infants' spines are a single c-shape, lacking strength to hold their heads up. As they grow and develop muscle structures, balance and coordination, their spines develop the 3 natural curves found in adult spines.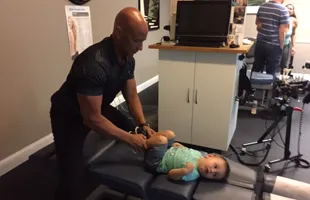 Childhood chiropractic evaluation
Reflex tests
Birth history
Range of motion
Spinal curvature tests
Developmental history
Referrals if necessary
Spinal development and treatment
There are many ways to ensure proper spinal development of infants and maintaining chiropractic health in children. Supporting your newborn's neck and head while lifting is vital to proper development. Contact Advanced Chiropractic & Physiotherapy in Lakewood Ranch, FL with any concerns.